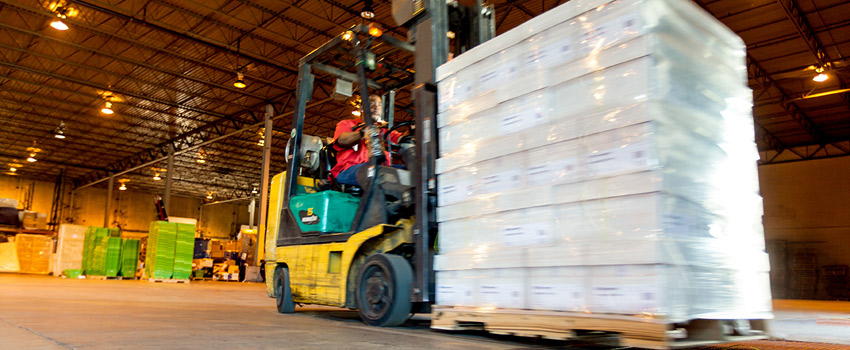 Keeping Production Moving with Integrated Plant Communications
Whether they're managing a single food processing facility or a string of multinational automotive plants, manufacturers we provide solutions to improve performance, increase safety, optimize resources and run their operation smoothly.
Radio communication remains a critical foundation for manufacturing communications. However, technology has changed the way we communicate, rather than replacing radio, these advances have made it even more essential as a reliable, rugged, and direct connection. The number of manufacturing companies have transitioned to digital two-way radios that can integrate intelligence driven applications has almost doubled in the last few years.
Two-Way Radios

There's virtually no area of a plant where using two-way radios doesn't improve throughput and productivity: enhancing employees' ability to collaborate and act on real-time information. Digital technology delivers better coverage and clearer voice – essential for noisy environments with internal barriers and obstructions.
We understand the realities of manufacturing and we provide advanced communications specific to the industry. The factory floor can be loud and chaotic. It's why the radios we offer for manufacturing businesses have the same specialized features as the radios we offer for fire and police first responders – such as noise-cancelling technology and Intelligent Audio. MOTOTRBO™ digital radios monitor background noise and adjust the speaker volume, so plant workers don't have to. Wireless accessories and noise cancelling headsets enable them to interact freely, while protecting their hearing. Unreliable communications can hurt safety and operational efficiency, but when you rely on MOTOTRBO, you have "always available" communications to help teams work more safely and efficiently than ever.
The backbone of integrated plant communications is the MOTOTRBO digital two-way radio platform. This complete, flexible and adaptable solution includes two-way digital radios, accessories, applications, systems and support services. MOTOTRBO interconnects personnel and equipment to help plants streamline production, automate processes, manage risk and respond to customers quickly.
MOTOTRBO seamlessly integrates voice, data, text messaging and GPS to help resolve equipment issues and reduce unplanned downtime faster. Employees communicate and collaborate more efficiently and effectively, wherever they work. All while protecting their safety and enhancing overall productivity.
Applications
Make your plant safer and more efficient by adding applications to customize your MOTOTRBO digital radio system. They enable your employees to boost productivity, reduce downtime and enhance worker safety in noisy, fast-paced environments.
A few of the most popular applications we deploy for manufacturing include:
Work Order Ticketing
Prioritizes personnel and creates efficient workflows. Work order ticketing helps resolve issues fast, enhances the efficiency of personnel responding to issues and coordinates maintenance. It also helps generate reports to ensure efficient workflows.
Text Messaging
When voice communication isn't practical due to excessively high noise, workers can quickly and easily share information with colleagues using text messaging.
Command & Control
Integrates powerful voice and data communications with advanced fleet control and dispatch functionalities. Control room personnel are better equipped to organize and deliver routine tasks, communicate with teams on the plant floor and make faster decisions
Learn more about MOTOTRBO Applications
WAVE PTX™ Push-To-Talk Service
Virtually everyone – from the smallest workshop to the largest manufacturing plant – can benefit from Push-To-Talk (PTT) technology across their entire operation. The two-way radio PTT experience delivers instant communications to connect and empower your workforce.
Leverage the resources you already have to communicate with employees on their own devices. WAVE PTX extends your radio's reach to those who may not carry radios. Now, the IT director at a convention or the supervisor away from the plant can talk on their smart phones with radio users at the plant.
WAVE PTX connects to virtually any device – smart phones, laptops, tablets, and landlines – on any public or private mobile data network, including Wi-Fi. You get seamless and secure connectivity, affordable push-to-talk, and the freedom to keep service plans and devices.
Learn more about the WAVE PTX™ Push-To-Talk Service
Downloads and Resources
Survey Reports
White Papers